A-kassa received fewer applications for earnings related unemployment allowances than in the previous month. The number of applications was also lower than in December of the previous year. A-kassa monitors the unemployment status of its members monthly.
A total of 15,323 applications for earnings-related allowances arrived at the Open Unemployment Fund in December, which is 2,969 applications less than in November. Compared to December last year, there were now 1,240 applications less. The number of applications for the whole year was 23 percent less than the year before.
In December, the unemployment fund paid earnings-related allowances to 15 531 members, which is 8 per cent of all the members of A-kassa. The number of people receiving earnings-related allowances decreased 1,075 which is 6,5 per cent less compared to the same time last year.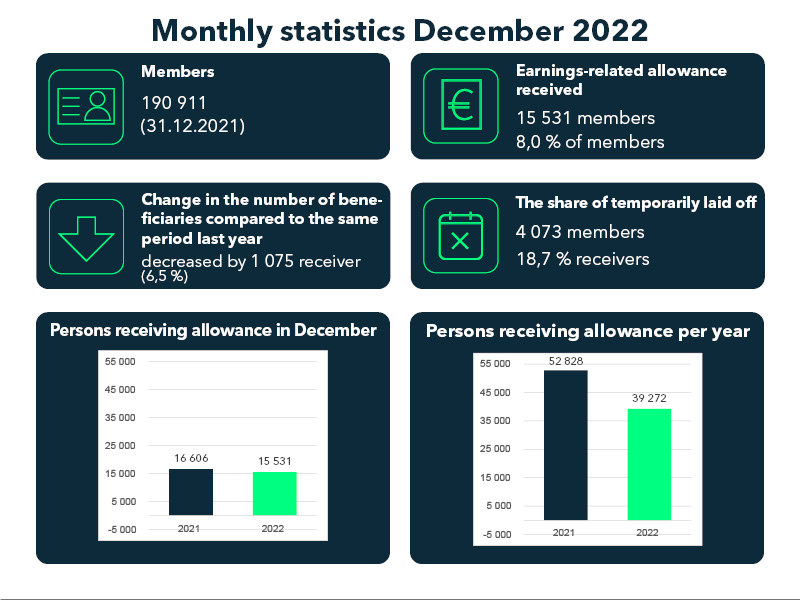 The number of recipients on temporary laid-offs was 4,073, which is 26,2 per cent of all the recipients of earning-related allowances. The share of those laid off increased considerably from November, when 2,863 laid-off members were paid per diem. Adjusted daily allowances were paid to 2,794 members, which was 18 per cent of all the recipients of earnings-related allowances.
In December, the average duration of unemployment was 18,4 days, which is 0.8 days less than in the corresponding period of the previous year.
The comparison figures for 2021 are the combined figures of the Unemployment Fund Finka, the Unemployment Fund of the Construction Sector, and the Unemployment Fund of Finnish Industrial Workers.